With very little marketing work, upselling—the art of suggesting upgrades to a purchase—can help you increase your average order value (AOV). These customers are already enthusiastic about your brand and products. It is your time to show them timely and appropriate upgrades. When done right, upselling may increase your connections and boost your income. However, if you do it incorrectly, you could come off as a pushy car salesman. "Upselling and Cross-Selling".
Learn why offering product upsells is crucial, what to offer, and how to do it in this article.
What is upselling?
Upselling is a strategy used to convince customers to purchase a more costly, upgraded, or premium version of a product they have already purchased or additional products to close a larger transaction.
Upselling is the practice of making a sale to an existing customer rather than a potential one. The probability of selling to an existing customer is 60%–70%, as opposed to a 5%–20% probability of selling to a new customer. Existing customers are generally easier to communicate with. Additionally, upselling becomes easier with time. After their second or third purchase, first-time customers' likelihood of returning increases to 54% from 27%.
First-time buyers are 27% likely to return, but after their second or third purchase, this grows to 54%.
Strategic upselling may help businesses increase their average order value (AOV). This is perhaps the largest advantage of using upselling. Order sizes may be helped by including upsells at strategic moments in the customer experience.
In addition, upselling aids in raising conversion rates. These post-purchase offers are targeted to your customer at a convenient stage of their buying process, when buyer intent is strong, increasing the likelihood that they will complete the transaction.
But the advantages aren't only for you; many also enhance the customer experience. You can make sure the customer chooses the right product for them and has everything they need to use that product by efficiently Upselling and Cross-Selling.
Batteries, for instance, make a great cross-sell item for products that don't come with any. This would not only result in a higher order total, but it would also increase the customer's cost by obtaining a value that they couldn't use right away.
The difference between Upselling and Cross-Selling
There is a key distinction between Upselling and Cross-Selling, which are sometimes misconstrued. Cross-selling entails suggesting products next to the initial product, while upselling concentrates on raising the order value and promoting a larger purchase. Therefore, a cross-sell is a whole different purchase, but an upsell is more of an upgrade ("Would you like fries with that?").
Say a visitor is interested in looking at $1,200 for a 13-inch laptop in the midrange.
The customer is given several CPU upgrade choices as soon as they choose a laptop. In this instance, the seller is trying to upsell the customer on a more potent (and pricey) machine. In product, they're trying to persuade the customer to spend more on the same product or category of item that they are now looking for.
The customer is allowed to add a printer to their order on the following screen after choosing the CPU upgrade. For many computer users, a printer makes sense as an accessory, and because it is connected to the first product in which the customer showed interest, it is seen as a cross-sell.
Pre- vs. post-purchase upsells
You can upsell both before and after a transaction (and even during). Pre-purchase upsells often occur before the purchase. After choosing an item and proceeding to the checkout process, customers may view pertinent product add-ons on the product page or the cart page.
When the risk is minimal and there is no harm in making a small purchase or receiving a free product, pre-purchase upsells are ideal. However, upselling may and ought to take place after the fact.
Customers may add items to their order after purchasing without risking the conversion from their original order thanks to post-purchase upsells.
After a customer completes a transaction successfully between the checkout and the thank-you page, upsells take place. These upsell on the order confirmation or thank-you pages are the best places to show customers how to maximize their most recent purchases. The flexibility of post-purchase upsell pages makes them ideal for discounts or tiny add-ons.
Pros of post-purchase upselling
Post-purchase upselling is beneficial for a number of reasons:
No impact on the original purchase. Customers may add items to their order after purchasing them without risking the conversion from their original order thanks to post-purchase upsells. The customer's initial sales funnel is not altered in any way.
Higher AOV. Upsells after a transaction increase the AOV. This has a higher conversion point than other upsell techniques since it is a very handy impulsive purchase for the customer (like purchasing a candy bar at the purchase counter of a grocery store).
Increased conversion rate. Because customers don't have to input their payment information again, one-click post-purchase upsells convert better.
Challenges of post-purchase upselling
That being said, post-purchase upsells don't come without challenges:
Relevance. Without personalization, your campaign introduces a barrier that may deter customers from making a follow-up purchase.
Upsell fatigue. Page after page of constant marketing to your customers will simply erode their perception of your brand and may even reduce conversion rates.
How to upsell to customers
We often stress how crucial it is to choose the right strategy for your upsell campaign. What does it mean, though? How can you approach upsells in a way that benefits both your customers and your business's bottom line?
1. Choose complementary products
One of the most typical ways to upsell is by suggesting products that go well with the ones your customers have already purchased. Compared to a random product suggestion, the relevancy increases the likelihood that customers will be prepared to make the purchase.
For example, Edloe Finch, a specialized furniture company, has a "You may also enjoy" section on its product pages that shows other items that go well with what the customer is presently looking at.
Displaying items that look great together is a great way to persuade shoppers to equip a complete area. However, it can be used in almost any industry; all you need to do is add a widget that displays comparable products and test customer interest.
Alternatively, emulate The Sill and have related products appear when a customer adds anything to their basket. The headline "Don't forget these!" might help a customer be aware that their plants need extra tools.
2. Discount products
Distribute discount vouchers so that customers may use them to save on future purchases. Then showcase the options available to them.
You may do this by creating a popup on your website, similar to what Purple, a mattress company, did to encourage people to opt-in for cost reductions.
Alternatively, you could send a series of emails to customers after they make a purchase, offering them a coupon for a discount on their next purchase. To create a feeling of urgency, be sure to include the expiration date of the discount code.
3. Offer an upgrade
Display the item a website visitor is considering along with an upgrade. Or, add an option to upgrade a product when checking out. As a result, each customer's entire order value may rise.
For example, Fly By Jing, a business that sells Sichuan products, displays its variety pack of Sichuan sauces at the checkout counter along with several other choices.
At checkout, a flower store could offer ways to upgrade vases, with each upgrade choice costing a little bit more than the previous one.
4. Create a subscription option
Offering a subscription option, even if it doesn't necessarily cost money up front, keeps customers coming back until they decide to discontinue their subscription. This is an excellent way to turn a one-time purchase into a recurring one.
The skincare brand Beekman 1802 serves as an example of this. Customers have the option of paying $45 or buying recurring orders to save $5.
5. Provide free shipping
Offering free shipping if the customer meets a particular threshold is another great way to upsell customers. On all orders of $50 or more, Anthropologie provides free shipping.
Choose the amount—be it $25, $50, $100, or more—that makes sense for your business. However, offering free shipping might be useful in persuading customers to spend a little bit more in order to avoid paying any shipping costs.
Tips to know for post-purchase upselling
Get personal
According to a survey by Infosys, 86% of consumers indicated that customization influences their purchasing decisions. Similar to downsells, upsells are most effective when they're extremely relevant and tailored to what your customers are currently purchasing. Upselling should enhance the customer experience rather than add difficulty or annoyance. Having a relevant offering will help keep your customers coming back, boosting customer loyalty.
Furthermore, personalization might contribute to a higher AOV. Nearly half (40%) of US consumers said that their customized customer experience led them to make a more costly purchase than they had initially intended.
Consider the value
Avoid suggesting products that increase the total order by more than 25% when deciding which upsell and cross-sell products to show. You should refrain from looking at customers with cross-sells and upsells that cost more than $25, for example, if the visitor's initial product choice is $100.
Take a data-driven approach to decide what to upsell
Although you may have a good sense of intuition, it's possible that you can use data to make more informed business choices. This is especially true when deciding which products to upsell. Utilize previous sales data and insights to assess customer purchase patterns and make product selections that are tailored to your products. If you see a pattern of product pairings, an upsell opportunity is there.
Additionally, it's important to make a routine of monitoring your upsell campaigns. Instead of putting it in place and forgetting about it, analyze how customers react to the advice and act upon it to maximize your upselling.
Use email marketing to continue the conversation
With the ability to provide insightful content, advertise products and campaigns, and generally remain top-of-mind, email marketing is a powerful customer retention strategy. Sending them specialized newsletters and promotions can help you maintain your customers and keep them coming back.
Add a post-purchase upsell strategy to your business today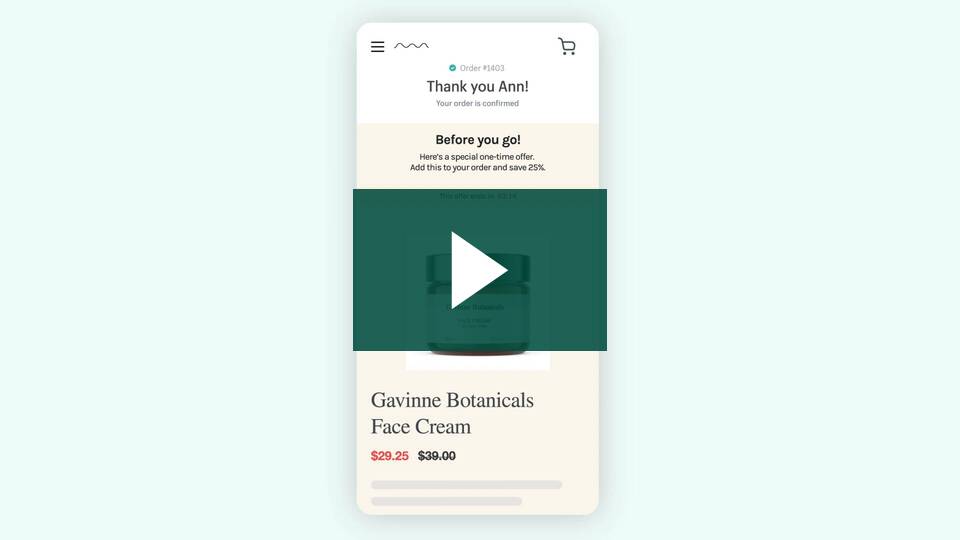 You can use upsell and cross-sell in a variety of ways to improve your customers' purchase experiences and raise your average order size at the same time. Numerous free Shopify apps are available to help you upsell and cross-sell to your customers. Our recommendations
Although increasing revenue and average order sizes may be your main goals when upselling, it's always important to keep the customer experience in mind when creating new upsell opportunities. Customers may get irritated and perplexed if you pressure them to buy what seems like odd products. You'll be well on your way to a successful and satisfying upsell experience if you carefully analyze what makes the most sense to give your customer and at which point of the buyer's journey.