Imagine having to send each customer who added something to their basket and then abandoned it a personal email. How many people would you need to recruit only to do this important task? Marketing Automation.
To free up team members to work strategically, repetitive, time-consuming tasks can be automated with marketing automation software.
What is marketing automation?
Marketing automation, in its broadest sense, refers to software that streamlines the marketing process. These procedures might range from targeted advertisements to social media campaigns to email marketing.
How marketing automation works
For businesses to save time and resources, marketing automation aims to make marketing more effective. Lead generation, customer segmentation, customer lifecycle management, and many more marketing strategies may be carried out via marketing automation.
Software that automates numerous marketing tasks is known as marketing automation. The software has a variety of capabilities, but most of them allow for:
Test different messaging
Generate analytics reports
Create audience segments
Create and maintain a single database of customer data
Send custom messaging to different audience segments
Automate repetitive tasks such as welcome emails and tagging shoppers
Small businesses may essentially automate tedious tasks related to carrying out a digital marketing strategy. Imagine sending customers tailored messages when they do particular activities, such as subscribing to a newsletter or adding items to their shopping cart.
These messages are issued by workflows, or lists of instructions, that enable businesses to send certain messages to customers at particular times. Workflows may be created from scratch or using templates, and they can be modified mid-campaign to improve your results.
Consider a scenario where a potential customer visits your website and registers to have a discount coupon sent to their email. This may start a chain of emails with a welcome message and a discount coupon that informs them about your product over many weeks.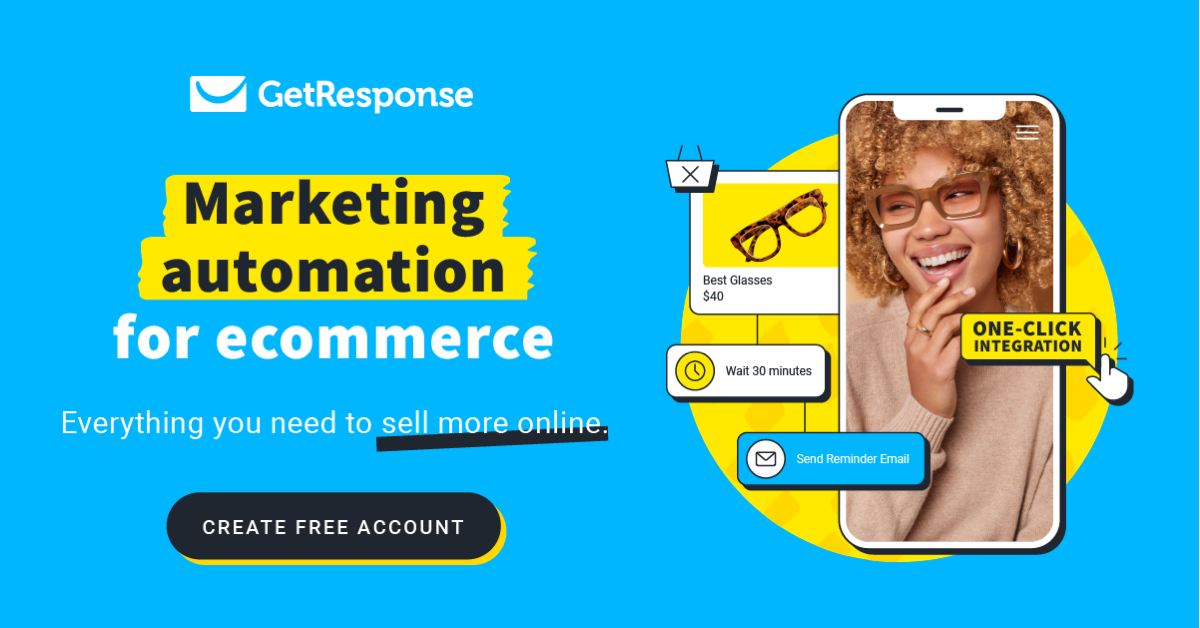 Benefits of marketing automation
Using marketing automation has a variety of advantages for businesses, including greater use of marketing staff and more potent marketing professionals.
Freedom to focus on the big tasks
Your marketing staff will have more time to concentrate on the parts of their job that only a person can perform by eliminating laborious and repetitive tasks.
Deliver targeted messaging
You may segment your audience using marketing automation tools to customize and provide more relevant customer experiences.
Consider a shampoo company that offers a range of products for frizzy hair. The company may automatically email current customers with NYC shipping addresses to market those products that manage summer frizz as soon as blistering summer temps arrive in New York City.
Better manage leads
Everyone in the company can provide better customer service and boost the bottom line by having data gathered and kept in one central location. For instance, every member of your customer service team may access information about a customer's previous interactions with the company and their preferred products when they write in to provide them with more individualized service.
Types of marketing automation
Email marketing automation
One of the first sorts of automation you'll come across is email marketing automation. There are various marketing tools available to aid with your launch.
These emails may be conversational, transactional, or promotional (like a greeting). Even though email marketing is advantageous to a business, manually sending and responding to email campaign responses doesn't scale well as your company expands.
As your database expands, marketing automation software prevents a 10-minute daily email effort from growing into a day-long sequence of repeated tasks.
CRM automation
Email marketing and CRM (customer relationship management) automation are comparable yet distinct from one another. Customer-facing sales teams and customer service roles benefit from CRM automation to handle leads and keep customers happy. Marketing automation tools are specialized tools used to offer content to customers.
CRM automation assists you in keeping track of clients who engage with your business via various channels and may benefit from three crucial marketing tactics:
Selecting a target audience that will be exposed to a certain message (enabling you to deliver relevant content)
Analyzing past contacts helps forecast future customer behavior.
expanding the prospects for upselling, cross-selling, and retargeting
By offering superior customer service, effective CRM automation may increase your sales productivity and help you forge deeper bonds with your customers.
Facebook advertising automation
Email and SMS marketing are great tools for nurturing current leads when combined with CRM connectivity, but how do you get new leads? Of course, Facebook
You may automate your lead generation using Facebook's varied ad types, such as single-image or video ads. From the Facebook Business Manager, you can now run ads on Instagram.
One cool feature of Facebook ads is how you can link your preferred CRM software to automatically record new leads generated by your ad campaign. Other significant advantages of Facebook advertising include:
Leverage Facebook's mobile optimization to reach more people.
The capacity for A/B testing to raise your possibilities of obtaining qualified leads.
the choice to integrate Facebook pixel tracking with your current website or app management tools.
How to create a marketing automation strategy
The ideal method to deploy marketing automation is to have a clear understanding of your business's objectives before choosing the appropriate technology to carry out your strategy.
By doing this, your business may develop highly relevant content, nurture leads, and foster brand loyalty. Consider applying the following best practices in your small business:
Set specific and measurable goals
You need to be very clear about what you want your marketing campaigns to accomplish. For instance, a shoe manufacturer would wish to use Facebook and Instagram campaigns to sell at least 1,000 pairs of shoes each month.
Segment your audience
With various buyer personas, different messages will be sent. You may target various types of customers with messaging or product choices that are suited to them by having properly defined audience groups. It could be a good idea for the shoe designer to email existing customers about running shoes to inform them about the release of their new trail running shoes.
Map the customer journey
Think through the specific steps that you want your marketing campaign to take. How will customers progress through your sales funnel?
For instance, you may see them seeing your Instagram ad, going to a product landing page, signing up for an email with a 10% discount coupon, and then making a purchase. At each level, what do you want to learn?
Decide how and when to advance your audience after they have entered your process, maybe by signing up for a free trial.
Test and refine
Knowing what is broken may give you the ability to make things right. Using A/B testing, you may monitor the performance of campaigns by experimenting with various messaging, platforms, and email subject lines to see which will resonate with your audience the most. The goal is to iteratively test and improve your marketing strategy until you hit the sweet spot.
Marketing automation best practices
Keep lead scoring simple
Lead scoring involves giving each lead a numerical value, or score, to prioritize and decide which leads are best to explore. According to the theory, leads with higher scores have a better chance of becoming customers than leads with lower scores.
You can keep lead scoring simply by:
Using a 1–10 scale instead of a 100-point scale
Limiting the number of criteria you use to score a lead
Focusing on a few key characteristics or demographics
Creating a lead scoring rubric that's easy to understand and use
Avoid making the lead scoring process too complicated by including too many factors or complicating the scoring methodology. Keep it straightforward so you can readily order your leads and prioritize which ones to pursue.
Create workflows for your most important marketing goals
Workflows are lists of instructions that specify the steps to be taken and the appropriate times for each step to be taken to finish a task or reach a goal.
Workflows can be used for a variety of marketing tasks, such as
Abandoned cart messages
Lead nurturing
Customer segmentation
Create a workflow after determining your goal. Then create a list of the steps that must be taken to accomplish that goal. Lastly, determine when each action has to be taken.
For instance, if increasing the number of website visits that convert to leads is your goal, your workflow would be as follows:
Step 1: Send a targeted message to website visitors
Step 2: Place a webinar registration form
Step 3: Send a reminder email to registrants
Step 4: Follow up with registrants who don't attend the webinar
Each of these steps may be automated using marketing automation software. After that, you may monitor your development to determine how well your workflow serves your purpose.
Use lead nurturing to move leads down the funnel
The process of cultivating connections with leads who aren't yet prepared to make a purchase is known as "lead nurturing." Moving leads down the funnel so they can ultimately become customers is the goal of lead nurturing.
Sending relevant material to leads at various phases of the purchasing process is known as "lead nurturing."
You may send instructional material about your product to a lead who is in the awareness stage, for instance. Then you send a case study describing how your product assisted in resolving a comparable issue to a lead who is in the consideration stage. The goal is to provide leads with the information they need to make informed decisions about your product.
Although you can manually nurture leads, marketing automation software is often more effective. By doing this, you can generate content specifically for leads depending on where they are in the purchase process and send them relevant information automatically.
Monitor your results and adjust your strategy
Following the implementation of your marketing automation strategy, it's critical to keep an eye on your progress. This will help you determine the efficacy of your strategy and whether any changes are effective.
There are a few key metrics you should track, including:
Lead conversion rate: the percentage of leads who convert into customers
Cost per lead: the amount of money you spend to generate each lead
Lead quality: the number of leads who convert into customers divided by the total number of leads
Keeping track of these metrics will help you determine how effective your marketing automation strategy is. Make changes to your strategy if you're not getting the desired outcomes until you discover a combination that works.
Best marketing automation software
Hubspot
Hubspot is a marketing software platform that comprises a CRM, marketing hub, sales hub, and services hub. It features a simple UI and allows users to set automation workflows that work across products. While Hubspot offers bundles for the "all in one" strategy, you can also upgrade to use certain services by purchasing individual products.
Automation features:
In the sales hub, automatically score leads and rotate them around your team.
Automate email marketing campaigns to assist in guiding customers along the sales funnel.
To manage help inquiries and create tickets, create an automated help desk.
Pricing: To set up omnichannel automation workflows, you'll need to subscribe to Marketing Hub Professional, which starts at $800 a month. You can start for free with access to basic tools (such as setting up an instant reply chatbot).
Platform.ly
Platform.ly offers an amazing suite of marketing automation tools that seem to be identical to many others at first sight. Platform.ly's tracking and link attribution, on the other hand, really set it apart from its competitors. Its link-tracking feature enables you to attribute the amount of cash made by each channel, allowing you to make more educated marketing choices.
Automation features:
Drag-and-drop campaign builder
Lead scoring system and advanced reporting
Automated email sequence and audience segmentation capabilities
Pricing: Begin for nothing, but premium packages start at $19 (paid annually). Additionally, it has a handy price calculator.
Salesforce Pardot
Salesforce's B2B marketing automation software is called Pardot. It has a slew of automation options, but what sets Pardot apart is its ability to track every user interaction on your website, as well as its artificial intelligence component (Pardot Einstein), which provides suggestions.
A/B testing to optimize campaign results
Spam filter check-ups
automated interactions using autoresponders for landing sites and forms.
Along with email triggers, remarketing, and a lead scoring system, lead nurturing and qualification capabilities are also included.
Pricing: Pricing for the automation capabilities that you may use for up to 10,000 contacts starts at $1,250 per month; there is no free version (although you can request a sample).
ActiveCampaign
ActiveCampaign is a marketing automation and CRM tool. It provides an omnichannel experience and connects with widely used programs like Salesforce, WordPress, and Zapier. Additionally, ActiveCampaign offers a bird's-eye view of all of your automation so you can make sure everything is running as it should.
Goal tracking is used to keep track of little conversions that boost lead scores.
Using Automation Map, you can view connections (and their statuses) between automation.
The information provided by site tracking shows the products, services, or knowledge that your website visitors are most (and least) interested in.
Pricing: A free trial is offered. Plans with 500 contacts start at $9 per month (paid yearly). In addition, a price calculator is provided.
Use marketing automation to sell more
Every smart ecommerce company's inbound marketing strategy must include marketing automation.
Explore the many integrations that your chosen marketing automation platform offers, develop unique workflows using SMS and email, and interact with your audience to really embrace it. Your own surprise at how quickly you improve your marketing efforts may yield results.
Marketing automation FAQ
What is an example of marketing automation?
When a user subscribes to a newsletter on a website, a series of automated emails containing material catered to their interests are sent to them. This is an excellent example of marketing automation in action.
What is meant by marketing automation?
The use of software and technology to automate marketing processes and tasks is known as marketing automation. Marketing initiatives like targeted ads, social media campaigns, and email marketing might be part of it.
What is the top marketing automation platform?
The finest marketing automation platform for your company will depend on your unique requirements and spending power among the several platforms that are now available. HubSpot, Marketo, Oracle Eloqua, MailChimp, and Pardot are some examples of well-known marketing automation platforms.
Is marketing automation the same as CRM?
No, customer relationship management (CRM) and marketing automation are not interchangeable terms. CRM is a platform that helps businesses manage their customer interactions, while marketing automation focuses on automating marketing tasks and procedures.